This page contains all the information you should need about my Baby Photography. I specialise in Newborn Photography and also Baby Portraits that capture your baby's personality when they're a little older.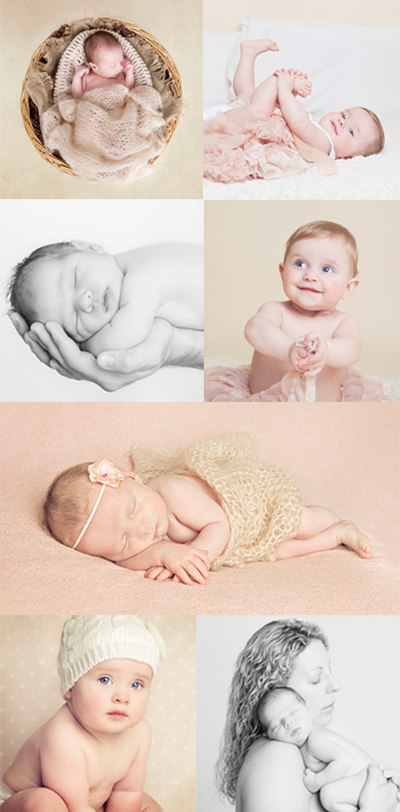 Newborn Photography
Those special newborn features change so quickly, tiny toes, little curls, long eyelashes, with a newborn photo shoot you can capture all of those details and those precious early stages of your baby.
I am one of the leading specialist newborn photographers in the the Midlands and offer relaxed newborn shoots for you and your baby at my purpose built baby studio in Sutton Coldfield (just 15 mins from Birmingham). I only schedule one session per day so sessions are never rushed, making time for a feed, change or a cuddle with Mum if needed.
Newborn sessions are best held within the first 7-14 days of your baby arriving, ensuring your baby still has that beautiful newborn look, settles quickly and is less prone to colic and baby acne. It's strongly advisable to book a session a few months before your baby is due, as I only offer 3 newborn sessions a week, my diary fills up very quickly. Your session is usually booked for around 6-8 days after your due date and as we all know babies rarely arrive on time, your session is moved forward or back depending when baby makes an appearance.
Newborn Session £125
Included in your session
* A Newborn session lasting up to 3 hours
* My time and talent to produce beautiful photographs
* Full use of my extensive range of props (wraps, thows, hats, headbands etc)
* Professional editing of your images in my signature style
* A private online proofing gallery of approximately around 25 images
* A watermarked sneak peek image for use on Facebook
* An in person viewing appointment to discuss framing options if required
You then have the option to purchase print collections from £150,frames from £200 and digital collections from £250
Baby Photography Session
My baby portrait shoots are all about capturing those first smiles and chuckles, gorgeous chubby baby wrinkles and your baby's personality. Ideally taking place when your baby can push itself up to look around, when they're put onto their tummies or sit unaided, both are great stages to have a baby portrait shoot and it's always lovely to include some portraits of Mum, Dad or any siblings. Sessions can take place at my baby studio, on location or in the comfort of your home.
Baby Portrait Session – £75
Included in your session
* A Baby Portrait session lasting one hour
* My time and talent to produce beautiful photographs
* Professional editing of your images in my signature style
* A private online proofing gallery of approximately around 30 images
* A watermarked sneak peek image for use on Facebook
* An in person viewing appointment to discuss framing options if required
You then have the option to purchase print collections from £150,frames from £200 and digital collections from £250