Family Weekend at Woolley Grange
I was recently invited to stay with my family at one of the hotels in the Luxury Family Hotel Group. I'm fortunate to be a recommended supplier for weddings and portraits at The Elms in Worcester and love it here, however on this occasion we decided to venture a little further afield and chose Woolley Grange in Bradford on Avon, just outside Bath. We jumped in the car on a glorious sunny Saturday morning and headed down the motorway armed with DS Lites, books, toys, Ipod's and all the usual paraphanalia kids pack themselves, you name it the kids brought it! Now I don't know about you but I do not enjoy travelling in the car for long periods of time with my kids, maybe I shouldn't admit this but let's be honest most kids bicker right? I don't know what it is about my car but you can guarantee that 15 minutes into the journey it starts, so you can imagine I was beyond delighted to reach our destination in just under two hours, yipee!
I'm not sure what happened when we arrived but I did wonder if Woolley Grange cast some kind of magic spell over them and transformed my children from uncommunicative DSi/Ipod obsessives back into, well, children! From the minute they saw the place they were enchanted.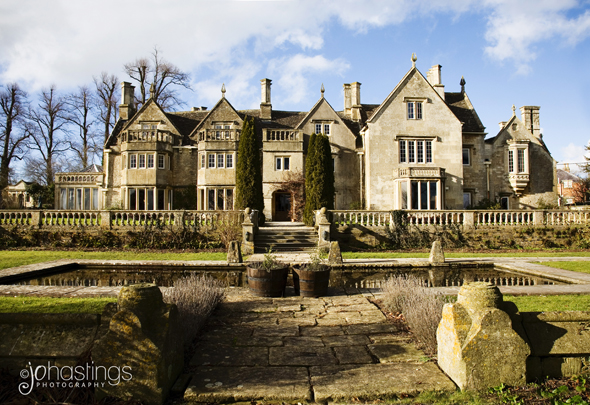 If you haven't heard of Luxury Family Hotels you really should check them out. I know that there are lots of family friendly holiday options these days to choose from, but for us this was perfection! I loved how they have a quintesentially English view of childhood and promote timeless activities such as walking the resident dog 'peanut', climbing trees, trampolining, role play in thier fabulous traditional wooden wendy houses or simply running around with a ball. Of course there are upto date options for family fun too, like their state of the art spa and pool, a funky hang out for the older kids, complete with pool tables and air hockey and 'The Bears Den' for younger children where they can paint and paydoh to their hearts content. The food was amazing and I don't think my youngest could quite believe that there were vintage carousel rides outside our room that she could sit and play on whenever she liked.
My girls didn't touch the DS once and didn't argue at all, fresh air is so good for the soul and I definately intend to spend more weekends like this one.
Naturally I couldn't go without taking my camera, much to my children's annoyance. So here are some images from our little weekend, some are by no means technically perfect, but one of my New Years Resolutions was to enjoy photo's of my own children for what they are…memories, rather than looking for that ultimate shot.
It was just what we needed and there will definately be more quality family time like this more often.